About Rakuten Ι e-commerce company
Rakuten Group, Inc. is Japanese electronic commerce and online retailing company based in Tokyo, founded by Hiroshi Mikitani in 1997.
Rakuten, is business-to-many e-commerce platforms and one of the largest e-commerce sites in Japan, its businesses include financial services utilizing fintech, as well as digital content and communications services such as messaging apps Viber, e-book distributor Kobo, and Japan's fourth largest mobile carrier Rakuten Mobile. Rakuten has 14,826 employees worldwide, operating in 29 countries and regions, and is often referred to as the "Amazon of Japan".
Problem Statement
♦ Rakuten Rewards was using the self-hosted version of the Atlassian products and wanted to shift to the Cloud to enforce Single Sign-On for their users.
♦ Rakuten wanted to take advantage of the various security features offered with the Atlassian Cloud and Atlassian Access.
♦ Rakuten Rewards was owned multiple domains associated with Rakuten so enforcing stringent security policies was a challenge for them.
♦ Rakuten planned to upgrade the environment to the latest self-hosted version and this upgrade required the next on-premises user tier mainly because of the growing number of duplicate user accounts.
Solution Delivered by EMPYRA
Zero downtime while migrating to cloud from server
Migration of all Atlassian assets along with Data.
Implemented Single Sign-On Across all the Atlassian Products Using Okta./li>
Optimized usage of third-party apps and consolidated across like-type apps to avoid paying for duplicate functionality.
Implementation of Atlassian Access across all users for security and 2FA (Two-factor Authentication)
The Challenges
Rakuten has more than 14,826 employees worldwide, operating in 29 countries and regions – one of the biggest challenges was to ensure their system is protected from security breaches.
Fast-growing businesses such as Rakuten with a worldwide customer base cannot afford to have downtime. They use multiple domains (Rakuten.com, ebates.com, 3rd. party domains, etc.), and implementing Single sign-on along with 2 FA (two-factor authentication) was a major challenge.
Migrating to the cloud with potentially zero data risk was of utmost priority. They needed an expert partner to help to plan, execute and support the strategic transition of their business/operations environment to the Atlassian cloud.
DELIVERING THE SOLUTION
Requirements gathering
Empyra's consultants spent a substantial amount of time finding the right solution to suit the needs and maintain transparency with stakeholders of Rakuten.
Our experts followed the standard process from initial requirements and then examined the more complex elements, including the need to consolidate 3rd party apps that were in use.
Requirement gathering involved:
Usability of Plugins to enhance the cloud features
Identifying the availability of the required Plugin/App in the Cloud Version
Identifying the Plugins/App with migration pathway vs. manual reconfiguration
Considering the appropriate licensing for all required products
Defining the timeline for migration
Consolidation of users across different domains in Rakuten
Consolidation of users across domains for implementation of Atlassian Access
Implementing the solution
The Atlassian Access was a major roadblock for Rakuten as they were using multiple domains. Due to this, enforcing security policies and 2FA was a nightmare.
Empyra saw it as an opportunity and after assessing all the requirements we agreed on the approach to be followed.
Migrated Jira Software using site-level migration.
Conducted two dry run migrations to ensure desired results can be achieved.
After the final Data Migration, the environment was turned over to the customer for a formal UAT.
After customer review, we fixed the outstanding issues.
Trained users in the Cloud environment on the new UI.
Benefits Delivered
The Success criteria for this migration project were unique. Empyra integrated Atlassian Access across multiple domains and migrated the Rakuten Rewards division to the Cloud. We followed the standard process to make a quick transition as efficiently as possible with no downtime to the organization. Prior to this engagement, Rakuten has been operating on the sole data centre/ Self-hosted shop and none of the Rakuten companies had ever used the SaaS model. Empyra provided Rakuten with a customized solution within a 4 month timeframe, because of this Rakuten Rewards division gained a lot of attention from businesses as well as from their customers.
¤Near-zero downtime without business disruption.
¤Enhanced security
¤Cost Saving by optimization of license usage.
¤Eliminated redundant third-party apps.
¤Customized solution to suit the exact feature requirements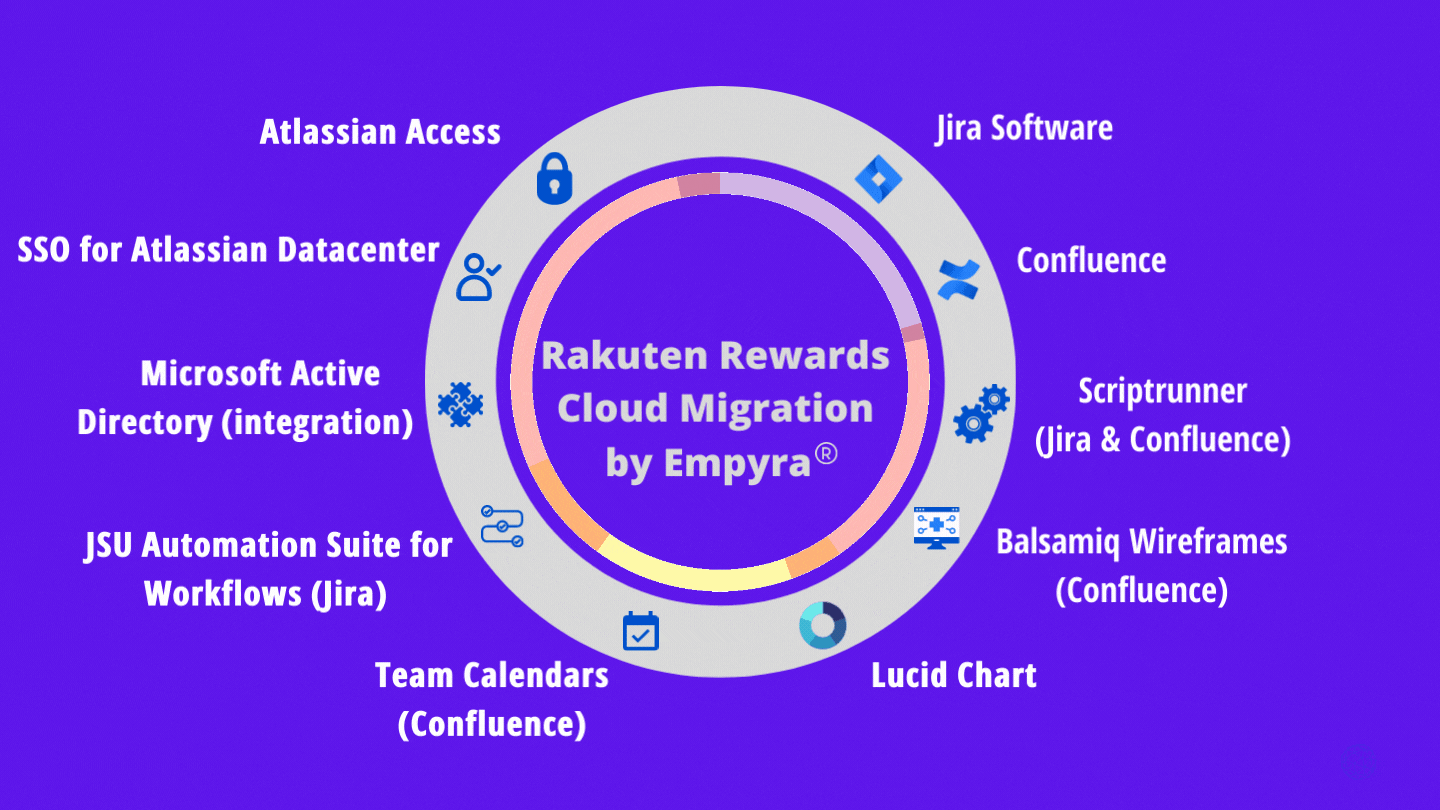 HOW EMPYRA MADE A DIFFERENCE
Rakuten is now able to enforce 2FA (Two Factor Authentication) security policies across the board without issue. Also, Empyra helped Rakuten to have successfully reduced the load on their infrastructure team since they no longer need to host the products themselves. Rakuten also enjoys the benefit of receiving the latest patches and fixes to the software without manual upgrades, leaving little to no vulnerabilities in their business operations.
* Rakuten is a trademark of Rakuten Group, Inc.


US Office

549 E. Sandy Lake Rd., Suite 100, Coppell, TX 75019


India Office

#1119, Banshankari 6th Stage, 1st Block, Bangalore – 560098


Call Us

(330) 744-5570
Book a Consultation With Our Atlassian Experts