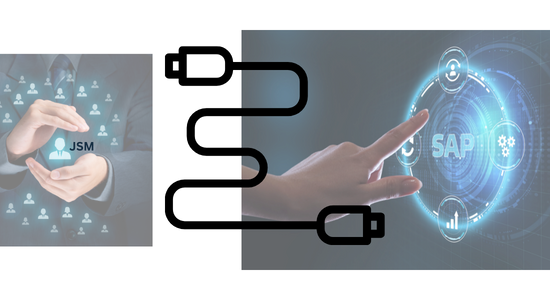 Connect your SAP SuccessFactors HCM system to Jira Service Management to enable seamless HR processes
HCM Connector for Jira addon plugin can be installed on Atlassian Jira that will integrate SAP SuccessFactors HCM system with Atlassian Jira using Intelligent Services. With this integration in place, tickets can be created in Jira Service Management automatically (using pre-defined rules) and the plan is to update "To Do" lists for users in the SuccessFactors system.

Raise support tickets to IT in Jira automatically e.g. new equipment requests based on the level and team of the newly hired employee.

Raise Access Card requests to the Facilities Management team using the Jira Service Management.

Assign the required reading tasks to the new employee (E.g. code of conduct, vacation policy, etc.)

Grant access to Jira projects based on the group/cost center of the employee.

Assignment of ongoing tasks to backup resources in case of Long Term Disability or vacation.

Disallowing Jira issue assignment in case of employee's long term unavailability.


US Office

549 E. Sandy Lake Rd., Suite 100, Coppell, TX 75019


India Office

#1119, Banshankari 6th Stage, 1st Block, Bangalore – 560098


Call Us

(330) 744-5570
Book a Consultation With Our Atlassian Experts